THE SPIRIT OF TRADITIONAL KARATE-DO IS ETERNAL. OSS!!!
Karate-do children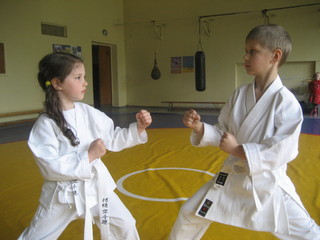 WE INVITE EVERYONE FROM 6 YEARS TO TRADITIONAL KARATE-DO TRAINING IN VILNIUS. SINCE MAY MONTHS СREATE NEW GROUPS FOR CHILDREN, YOUTH AND ADULTS.
SINCE MAY months TRAINING TRADITIONAL KARATE-DO SPORTS CLUB «RITUAL» FOR CHILDREN, FOR YOUTH AND ADULTS IN THE AIKIDO AIKIKAI SPORT CENTER (ŠEIMYNIŠKIŲ g. 44, ZIRMUNAI, VILNIUS).
TRAINING DAY - MONDAY, WEDNESDAY AND FRIDAY.
TRAINING TIME - 16.00 h.
Information:
Mob. tel. +37068902123,
Mob. tel. +37060505755
THE SPIRIT TRADITIONAL KARATE-TO IS ETERNAL!!!